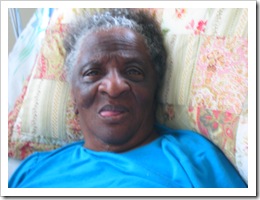 Another epoch is over. Gloria, the last surviving part of Franglor's restaurant and Denice's aunt, passed away this morning. Denice and I went and saw her two weeks ago, and then again on Saturday. She had deteriorated, but she still recognized us and seemed reasonably pleased to see us.
She really lit up twice. Once when
Denice was giving her a leg massage, and once when we put on Aretha Franklin. She even said 'yeah' when we asked if she remembered 'Respect'.
She went peacefully, which is always nice, and with her mental capacities still working for the most part.
Glo, Respect!